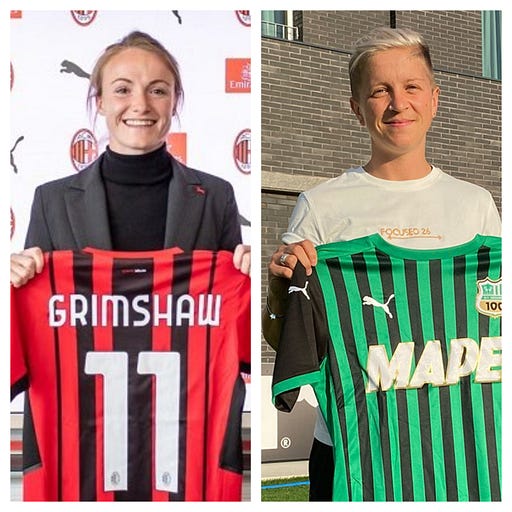 Sep 1, 2021 • 23M
Running the World: Christy Grimshaw & Lana Clelland
In part two of our Italy special, Christy Grimshaw & Lana Clelland speak about how they went from Scotland to the Serie A.
Women's football podcast, focusing on Scotland and beyond.
Christy Grimshaw joined AC Milan in 2020 and hit the ground running by reaching the Coppa Italia final for the first time in the club's history. Lana Clelland has been playing in Serie A since 2014 and has recently signed a deal with Sassuolo for the upcoming campaign.
Continuing the Running the World series, we're focusing on Italy.
In part one, Rose Reilly spoke about her truly remarkable career that took her from the red ash pitches of Stewarton to gracing the San Siro in Milan. This time, we turn to two Scots currently flying the Saltire in Italy.
Christy served spells in the USA and France before she found her way to Italy and AC Milan in 2020. The squad reached the Coppa Italia final and finished Serie A runners-up, inspiring Christy to sign a contract extension keeping her there until at least 2022. In this episode she speaks about playing in a cup final, the Champions League, her Scotland debut, and the Italian weather.
Lana has already become a fixture in Serie A, having played there since 2014 for a number of different clubs. She penned a deal with Sassuolo in July 2021 and has her sights set on bringing the club to the Champions League. She told us about the progress of Serie A, Italian league football versus Scottish international football and going back to being Lana again.
We're free this year
Anyone's Game will be free this season with no paywall, but you can still subscribe for free to ensure you never miss any of our content during the campaign.