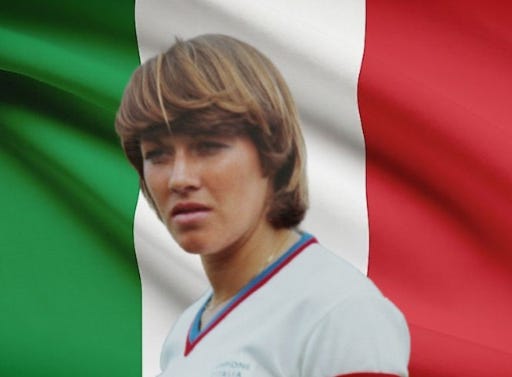 Aug 17, 2021 • 26M
Podcast: Rose Reilly - from Stewarton to the San Siro
Running the World: In our Italy special, part one focuses on Scotland and Italy football legend Rose Reilly
Women's football podcast, focusing on Scotland and beyond.
Rose Reilly is a footballing idol in Scotland, paving the way for young girls to play the game. Her road to stardom was blocked by hurdles, which Rose simply smashed down.
Continuing the Running the World series, this month we focus on Italy. Coming later in part two we chat with AC Milan's Christy Grimshaw and recent Sassuolo signing Lana Clelland. In part one, Rose Reilly tells her story of how she went from the red ash pitches of Stewarton to gracing the San Siro in Milan.
In this episode she tells us about…
Being punished at school for playing football.
Told to cut her hair short and change her name to Ross.
Banned from playing for Scotland.
Overcoming an initial frosty reception from the Italian players.
Being named the best women's footballer in the world.
Why she gave up football for a week.
Previous episodes
We're free this year
Anyone's Game will be free this season with no paywall, but you can still subscribe for free to ensure you never miss any of our content during the campaign.
Podcast music by Lily Daigle.