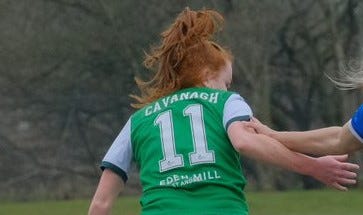 Oct 30, 2021 • 41M
Podcast: 'My team-mates hate me at training' - Hibernian's Colette Cavanagh
Anyone's Game meets Hibernian's Colette Cavanagh
Women's football podcast, focusing on Scotland and beyond.
Anyone's Game meets Hibernian's Colette Cavanagh. She discuses her ultimate five-a-side team, her time through the ranks at Celtic, moving to Hibernian to win trophies, winning the SWPL Cup, her Scotland ambitions, that 'ginger Ronaldinho' nickname, a look ahead to Sunday's SWPL Cup quarter-final with Aberdeen, and why her team-mates hate her in training.
We're free this year
Anyone's Game will be free this season with no paywall, but you can still subscribe for free to ensure you never miss any of our content during the campaign.