In nine days time, Zoe Ness will try to ignore an unwanted anniversary. In October last year, the-then Lewes forward was stretchered off and taken to hospital in a 3-0 loss to London City Lionesses. The defeat was inconsequential; Ness' season was in tatters and her knee in a bad way.
In February, despite still nursing the injury, she signed for Rangers knowing long before the lockdown began it would be a while before she would kick a ball in a Rangers shirt. In Sunday's 5-1 win over Hearts, after months of toil to get back to fitness, the 24-year-old bagged a hat-trick. Her smile was as wide as the cathedral walls in Durham where she grew up.
"For any injured player in lockdown it was great because you weren't missing anything," said Ness afterwards. "But, injuries are quite isolated, and lonely as they are I think even in lockdown it amplified it 100 times.
"I'm back now, 100%. Sometimes you've just got to go through those long lonely times to get back playing with your team. And you can see how much happier and how much I'm enjoying it now."
Rangers were relentless against Hearts in their opening game at their training ground. Hearts had given everything just to hold out until the 20th minute, before Ness finally unlocked the defence when she directed Nicola Docherty's free-kick into the net.
Her second was a horror moment for the Hearts goalkeeper, who spilled the ball then failed to outmuscle Ness as she tried to stop her nudging it over the line. The hat-trick was completed with the type of goal scored by a striker thinking one step ahead of the opposition - making her run across goal long before a headed ball fell into her path, which she swept home confidently.
Demi Vance and Kirsten Reilly added others. Lizzie Arnot was impressive on the left. Brogan Hay buzzed all over the park. It was constant one-way traffic with a Jenna Fife error for Hearts counter about the only blot on the copy book.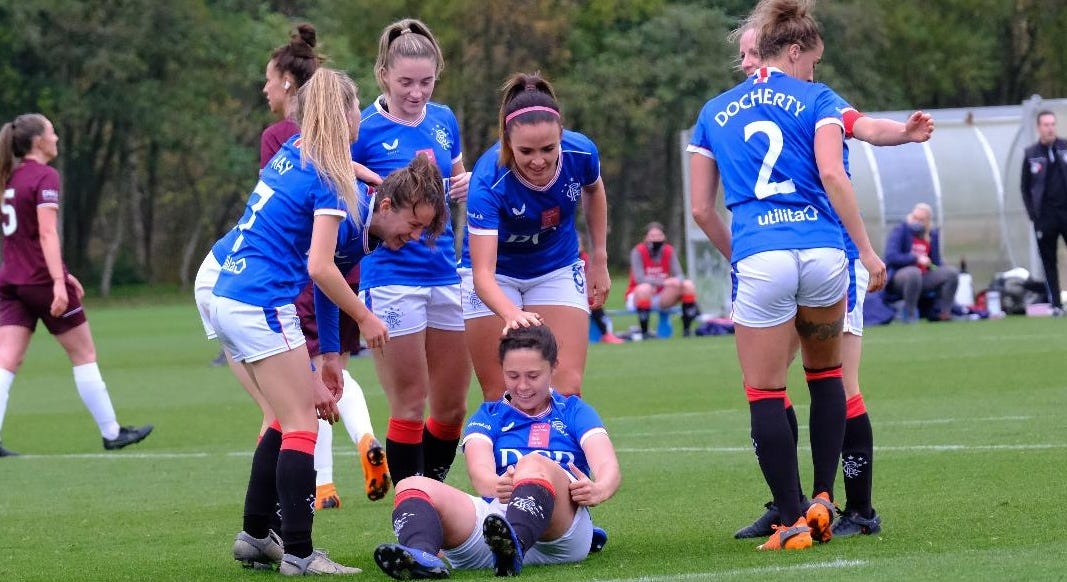 Ness learned a few hours after the game that she is back in the Scotland squad. Before the news filtered through, asked whether her treble will make national boss Shelley Kerr take notice, she said: "Hopefully. I think for me it's just more important getting minutes and especially about trying to get as many goals and opportunities under my belt.
"Those kind of things will come in time hopefully. But for me I'm just trying to get back from my knee injury, and really just focusing on that each week."
One manager who couldn't think more highly of her is Rangers head coach Malky Thomson.
He said: "Zoe's come back from a serious injury and credit to Rangers and the medical staff that have looked after her, and also her herself. She's such a focused individual. She's a credit to herself and she's a credit to women's football. And any young, aspiring football player needs to look at what she's about, how she conducts herself and how she trains and how she lives her life.
"And that's the end product there for somebody to have such a serious injury, and to come back and play in the Premier League in Scotland is a credit to her."
Rangers' win elevated them to the top of the SWPL after the first weekend, but champions Glasgow City served notice that they won't be overawed by the Old Firm.
Scott Booth's side beat Celtic 2-0, but the scoreline does not relay just how comfortable it was. It was a bruising 90 minutes for Celtic. Afterwards Fran Alonso admitted his side were out on their feet in the second half - City's superior fitness telling.
After losing the last two fixtures to Celtic, Glasgow City needed to make a statement of intent and they did so with some to spare.
However, the three catalysts for their win are Rangers-bound. Kirsty Howat, who had earlier hit the bar before scoring her side's second goal, has signed a pre-contract with their Glasgow rivals. So too has the opening goalscorer Rachel McLauchlan and BBC Alba's player of the match Sam Kerr.
Not that the rest were bystanders. Aoife Colvill, 19, who arrived earlier in the year from Australian side Canberra United, was also impressive. Northern Ireland's Lauren Wade has recently extended her contract at City. If the future lies with those two, City are still in good hands.
For Celtic, Alonso had said this season would be a transitional one for his side, but the performance will have alarmed him. And, in a 21-game season, any slip-up can be fatal to Championship hopes. Hibs' class of 2018 will testify to that.
It was an opening day that was eagerly anticipated and didn't disappoint. Forfar Farmington beat Motherwell 4-2, Hibernian saw off Spartans 2-1.
In SWPL 2, Aberdeen twice trailed by two goals but still fought back to beat Dundee United 4-3. The two sides had drawn 4-4 in pre-season. The next time they meet will surely be unmissable. You only have until the end of February to wait.
Glasgow Women were impressive as they beat Stirling University 4-0. Hamilton and Partick Thistle won too. While SWPL 1 now takes a break for international week, SWPL 2 continues.
Rangers have still to be properly tested. They will face a stuffy Spartans next, then it's a double header against Hibernian and Celtic.
City have been tested, and have passed the first exam. Unlike previous campaigns, they have a number of them to get through this season. Already it looks like we'll have two title races in both divisions that will be engrossing.
Our greatest advertising tool is the word of mouth from our readers. So if you're enjoying these emails then feel free to forward them on to your friends and loved ones and encourage them to subscribe.